Life has quite the effective way of throwing problems at us. Sometimes we see them coming and other times we don't. Our customers know that Advanced Graphics will be there, whether they see the problem coming or not, in their time of need. They know we will have a solution.
Friends
About a year ago we had a friend come to us in need with a special request. They were using 3D printers and software to create models for a special competition. They had some other equipment in place that was not working with one of their students designs. She designed a 3D image for the Boston Marathon Monument. However, their printer and software was not working adequately enough to finish the product. In 3 Days we were able use our VariQuest Trifecta 800 to print the design and send it half way across the country for her to show and submit on the final day. Aldine ISD's Carver Magnet High School sophomore La'Jasha Champion took home 4th place. Our IT Manager Lesh was the lead on this project and we love how this story turned out.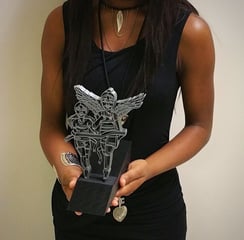 We are excited to work with everyone we meet and want to show them we care. This is just one of many storied over the years of how our customers felt our passion for this work. Feel free to seek out others who use us in their schools and workplaces and ask them about us.
Finally, Please let us know if there is anything we can do for you. We want you know that we have your back and that we here at Advanced Graphics have articulated our passion to provide Solutions…Not just Machines!